Natural Phenomena: 5 Things You May Not Know About BC's Parks
July 15, 2019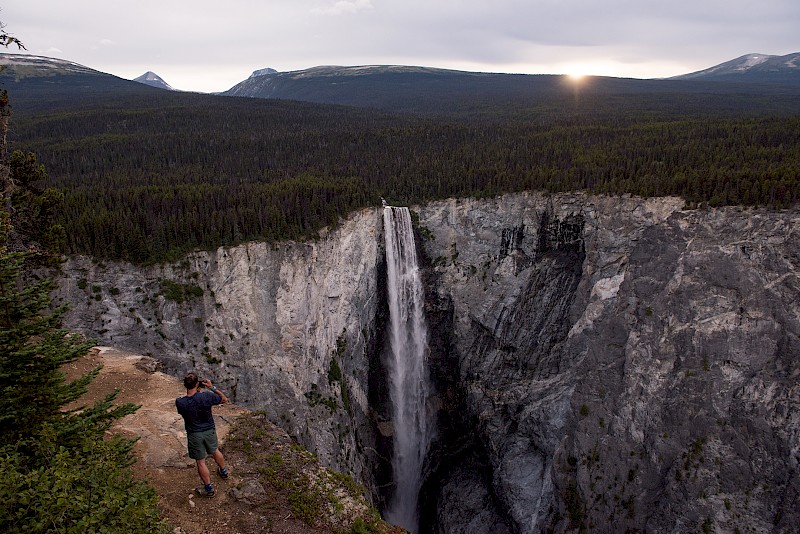 Photo by Kari Medig for Destination BC
Parks Day is on Saturday, July 20th, so we thought it would be a great time to celebrate some of the things that make BC so unique, awe-inspiring and unlike any other place on Earth.
With such a vast expanse of parkland combined with our province's incredible biodiversity and range of climates, BC is filled with many unlikely spectacles.
Here are unique and little-known features of five Provincial Parks.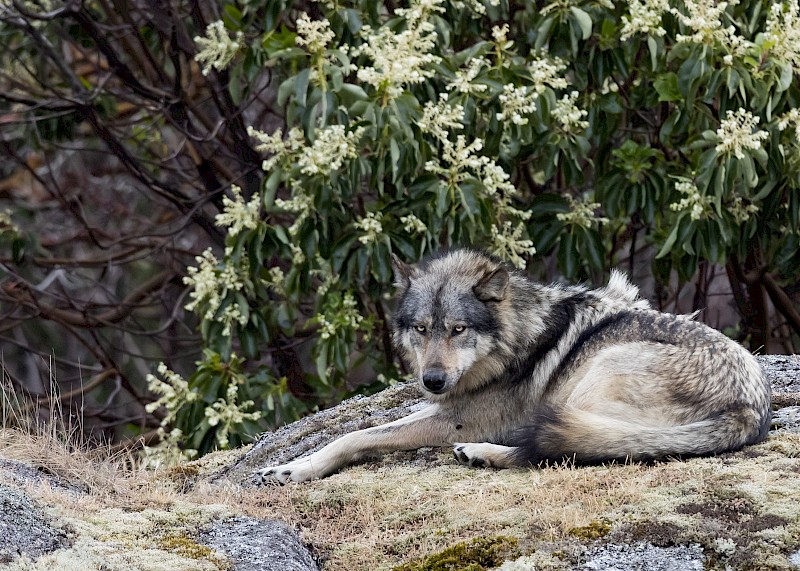 Photo by Eagle Wing Tours/Clint Rivers for Destination BC
The Lone Wolf
Discovery Island Marine Provincial Park
Just off Oak Bay in Victoria lays the Discovery Island Marine Provincial Park. This 61-hectare park has grown famous in recent years for its most unique and unlikely inhabitant: a lone wolf named Takaya. When sightings of the wolf were first reported, the authorities believed that people must be mistaking the wolf sightings for pet dogs roaming the island since this small islet lays just off the most developed region of Vancouver Island.
Wolves usually feed on deer and other ungulates, but there are no deer on Discovery Island. Instead, Takaya lives off a rich diet of seals, river otter, fish, wild mink and goose eggs. He has lived on the island for seven years and seems to be in good health, having learned to adapt his hunting for available food sources. While the park is open to the public, domestic animals are prohibited due to previous incidents of the wolf stalking small dogs. The wolf is not considered to be a threat, but measures are being taken to ensure there are no incidents that could imperil Discovery Island's wondrous canine inhabitant.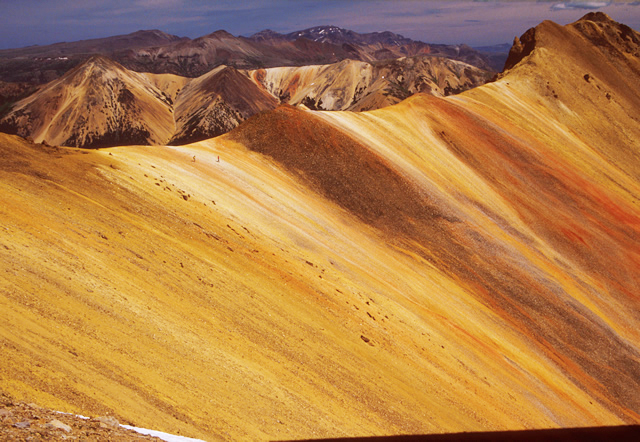 Photo by BC Parks
Painted Mountains
Tweedsmuir South Provincial Park
While many people travel to Peru to hike to the famous Rainbow Mountains, did you know BC has its own Rainbow Range? The ancient volcanic mountains in Tweedsmuir South Provincial Park boasts a pallet of red, orange, yellow and purple colours in its lava rock. This mountain range, called Tsitsutl in the local Indigenous nations which means "painted mountains," gets its colours from volcanic rock minerals.
Located near Bella Coola, it's possible to day-hike to these spectacular mountains where, alongside the vibrant lava rock, you also have a chance to see the abundant wild caribou, wolves, mountain goats and grizzly bears.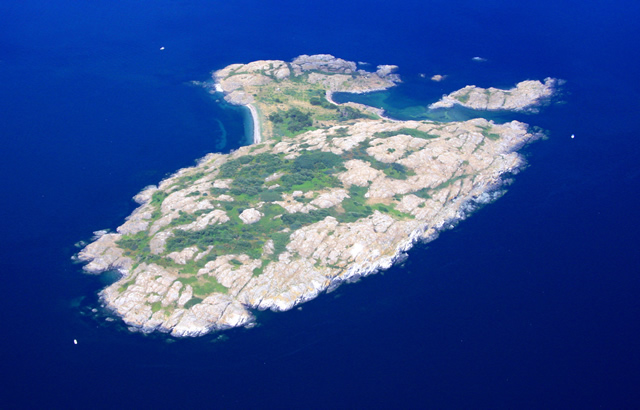 Photo by Marlene Graham for BC Parks
A Desert Island
Mitlenatch Island Nature Provincial Park
You don't have to travel inland to find a desert. Surrounded by rainforests on the mainland and Vancouver Island, Mitlenatch Island Nature Provincial Park is a semi-arid desert island with an ecosystem that stands out from any in the region. Make sure to watch your step since the island has annual blooms of prickly pear and coastal cacti. This desert ecosystem is caused by its location in the rain shadow cast by Vancouver Island's mountain ranges, situated between Courtenay and the Sunshine Coast. For reference, Vancouver Island's popular storm-watching town, Tofino, receives around 3,000 mm of rainfall per year, Courtenay - on the Island's east coast - receives about 1,500 mm, but Mitlenatch Island receives less than 750 mm of rain annually.
The dry, rocky and grassy island is popular spot to see thousands of nesting gulls and seabirds, as well as populations of river otters, harbor seals and both Steller's and California sea lions. Note that a large portion of the island is not open to visitors, so be sure to respect all signs and regulations.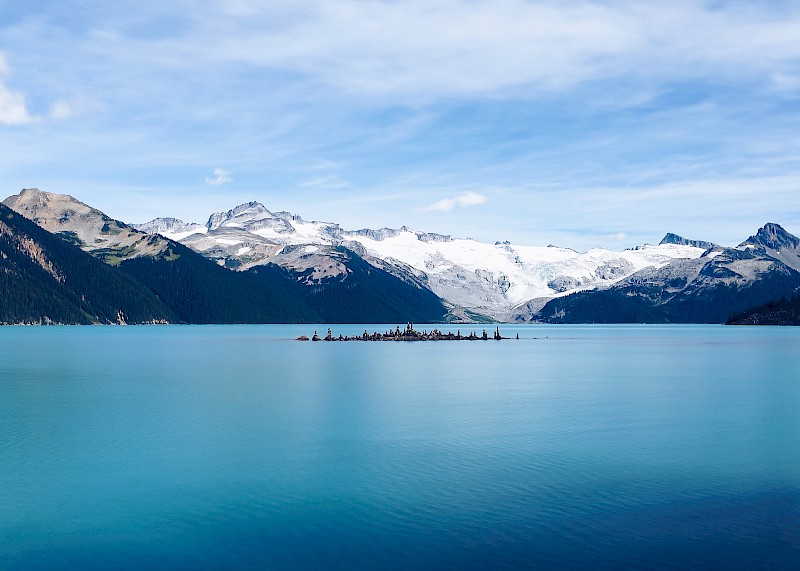 Photo by Bryce Evans on Unsplash
Feeling Blue?
Garibaldi Provincial Park
Garibaldi Provincial Park, situated between Vancouver and Whistler, is one of BC's oldest parks. Garibaldi Lake has been a fishing hotspot for nearly a century – in fact, back in the 1920's the lake was stocked with rainbow trout by horseback each year.
The lake has a magnificent light blue hue that awes its visitors. This vibrant colour is due to glacial sediment – also known as "rock flour" – that runs off into the lake. The sediment remains suspended in the water and refracts sunlight, reflecting back only shimmery, blue tones.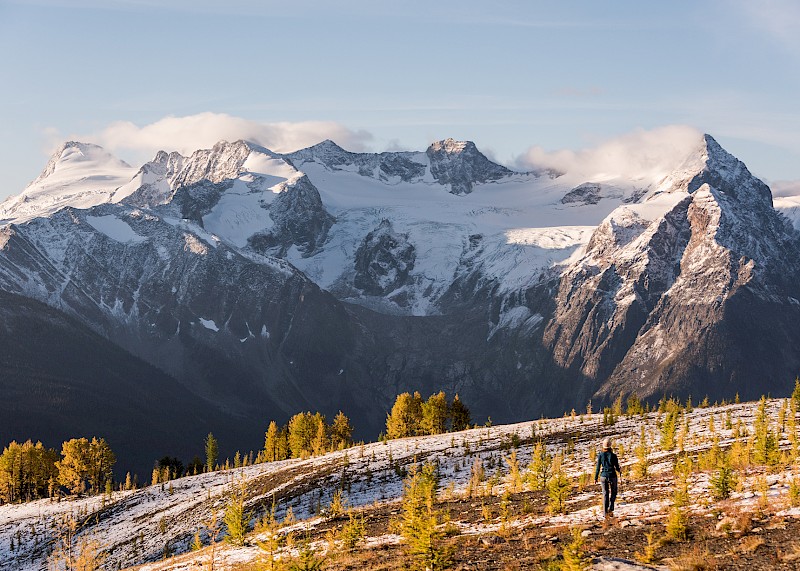 Photo by Kari Medig for Destination BC
Time Travel
Purcell Wilderness Conservancy Provincial Park
Within a two-hour drive from Nelson lies Purcell Wilderness Conservancy, straddling two time zones. Experienced backcountry hikers can take the Earl Grey Pass Trail from the Pacific Standard Time zone near the north end of the Kootenay lake and cross through the Purcell Mountains and hour in the future to the Mountain Standard Time zone near Invermere.
While this stunning range offers both stunning scenery and a range of outdoor recreation, it should be noted that it is an extremely challenging park to navigate, requiring extensive preparation, outdoor experience and safety training. Venturing into the park should only be attempted by expert backcountry adventurers.
Parks Day
If you're looking for more ways to celebrate BC's incredible landscape, flora, fauna, culture and heritage, find a Parks Day event in a provincial park near you!
---
About the author
Steve Hawkins, a student at UVIC's Gustavson School of Business, is working as a Marketing Analyst with the BC Parks Foundation. He spends his free time surfing, climbing, skiing and biking in BC's parks and is committed to promoting sustainable business practices – most notably creating a portfolio of carbon offsets to which his school has committed nearly $20,000.
Similar Stories
August 11, 2021
"

If you have too many quotes from other people in your head, you can't create. You have to keep your head empty. That's why I am constantly enjoying the sky, the park, the walk. 

"
Subscribe to our newsletter