Subaru Canada Supports Discover Parks
August 16, 2022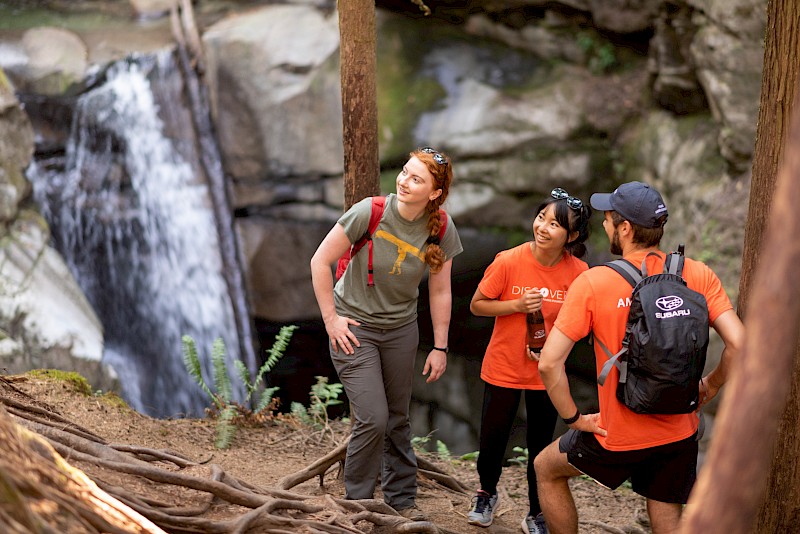 Meet up with a park ambassador for some Subaru Canada Swag

You are heading up to Cypress Provincial Park for your annual hike along the Howe Sound Crest Trail. As you approach the pop-up park you notice a bright orange tent with the words "Park Ambassadors" branded on the side. A group of visitors are crowded around the table, excited about something. Out of curiosity, you pull in to see what the fuss is all about.
Two team members in equally loud orange t-shirts are behind the table, which boasts animal skulls, track casts and information about something called "The Essentials". One of the orange-clad Ambassadors has pulled out some bear spray and is explaining how to use it. Ok, they have your attention. They take a few members of the crowd off to the side to discuss how to use spray, while the other catches your eye "What do you know about the essentials?" they ask.
"I'm not sure," you reply, but it sounds like it has something to do with wilderness preparedness. "Correct!" the Ambassador excitedly agrees and asks if you would like to learn what those essentials are, since you look like you're about to head out on a hike with your excellent footwear, pack, water bottle and bear spray on your hip.
The essentials:
Flashlight

Fire making kit

Whistle or mirror

Extra food and water

Extra clothing

Navigational / communication aids

First aid kit

Emergency shelter

Pocket knife

Sun protection
As they list the items, you pull them out of your pack – you're doing really well! Nine of the 10 are in there and the small crowd that's gathered around gives you a round of applause that reddens your cheeks. The Park Ambassador explains to the crowd that for some adventures you will need more than just these 10. Climbing for example, you will need a few more pieces of safety equipment, like a helmet, rope, and a harness! The Park Ambassador then offers a flashlight, reusable cutlery and a towel to everyone in the crowed and explains it is courtesy of Subaru Canada, a program sponsor for 2022.

The people that were learning about bear spray, including a few children who are now proudly sporting goofy moose antler hats, begin to move toward the group you are in.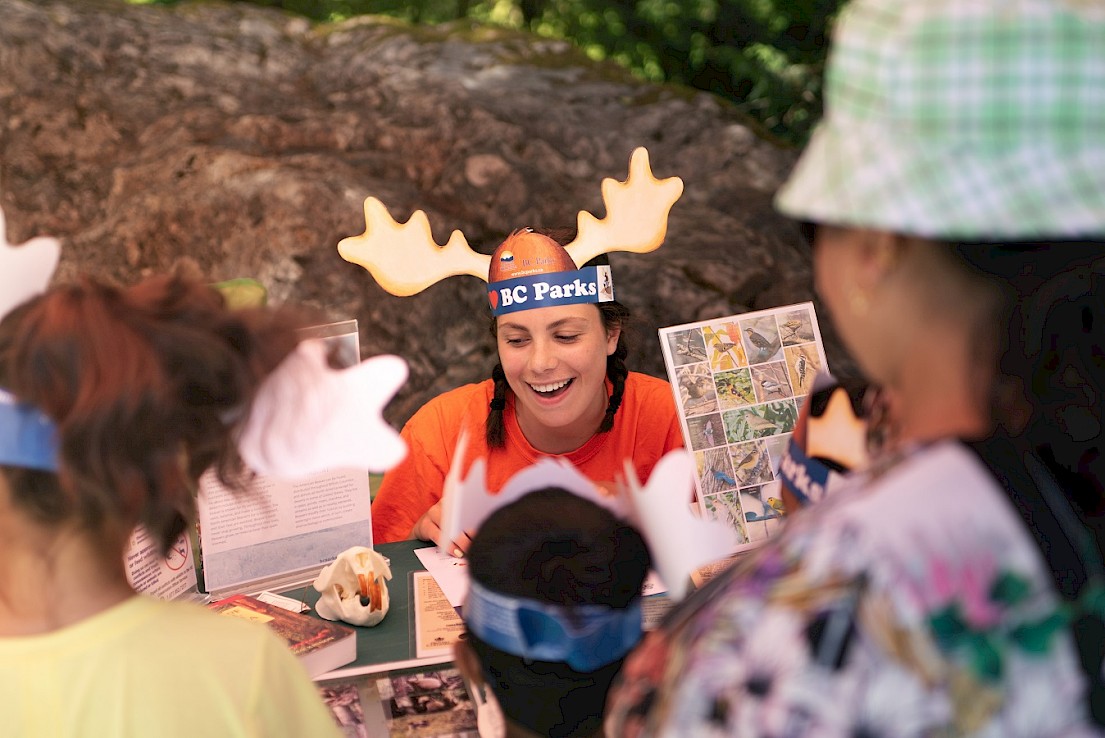 Much to your relief, the Ambassador thanks you for taking part and turns their attention back to the rest of the group. "Who wants to see our demonstration campsite? Let's see if you can spot all the possible animal attractants". You keep with the group and head over to the site. Excited visitors identify food scraps on the picnic table, toothpaste in the tent (toothpaste is an animal attractant?! You had no idea!), marshmallow-roasting sticks with marshmallow residue left on the ends, the cookstove right next to the tent and food in the cooler on the picnic table. The Ambassador explains what can happen to an animal that becomes food-conditioned and how practicing these simple bear and animal-smart tactics can save both their lives and ours!
As the Ambassadors wrap up their demonstration, you sidle over to one of the orange-clad team members, compliment them on their fun program and ask who they are. They explain that Ambassadors are part of the BC Parks Foundation Discover Parks program: it was started in 2020 in collaboration with BC Parks to connect people with nature to encourage stewardship and provide engaging experiences for visitors. The goal is to make everyone's experience in parks better and reduce the pressures on park ecosystems from overuse and lack of available information.
As you gather up your things to leave, you remember your plans to visit Golden Ears next week and ask the Ambassador if they are operating in any other parks this year. You learn that the brightly coloured team members can be found in BC Parks throughout the province under the same marked orange tents delivering interactive, family-friendly programming and trail hikes filled with fun, interpretive facts. You quickly jot down the Discover Parks Ambassador program website so you can do your own investigating about their schedule when you return.
Feeling armed with a bit more knowledge and a great start to your day, you switch on your GPS, send a quick message to your check-in person and head off on the beautiful trail toward Porteau Cove.
BC Parks Foundation would like to send out a HUGE thank you to our partner Subaru Canada and our 2022 supporters for making the Discover Parks program possible!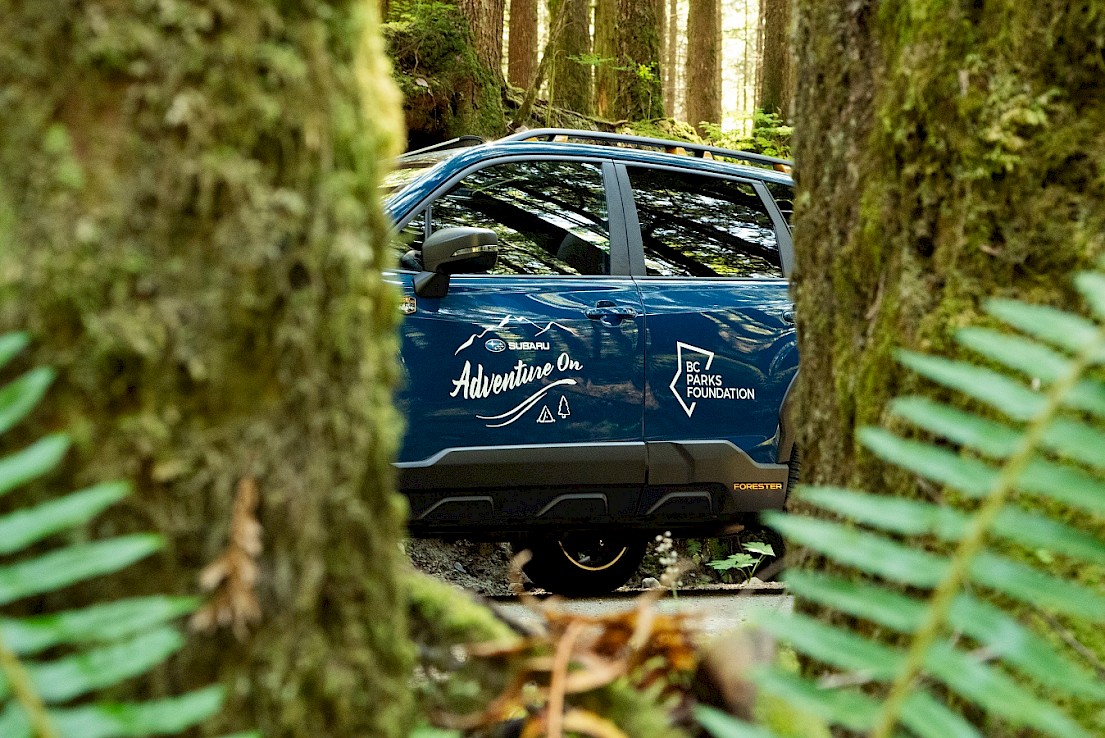 Similar Stories
October 18, 2020

February 24, 2020

August 13, 2020
"

BC's parks are a stream flowing from the original earth, through our hands, to the future.

"
Subscribe to our newsletter